See Location for more travel links.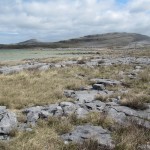 Free National Parks and Wildlife Service Bus
The free Burren National Park Bus Service is returning on Saturday 3rd May for the 2014 season. It will run daily from the Information Point in Corofin between 10.15 and 18.00 until Friday 29th August. The bus services the five way-marked walking trails in the park that allow the visitor to explore the limestone pavement, hazel scrub, deciduous woodland, wetlands and species-rich grasslands. The bus timetable can be downloaded from our website at www.burrennationalpark.ie. For more information please contact us on 065 6827693 or email us at burrennationalpark@ahg.gov.ie.

LATEST FROM BUS EIREANN (03/05/14)
The Bus Eireann Doonbeg to Ennis bus which on Mondays and Fridays operates via Monreal, Clooney, Willbrook and Rath Church into Corofin and Ennis will operate for the last time next Friday 9th May. In the future bus route 333 will operate Ennis-Corofin-Kilnaboy-Kilfenora and onwards to Doonbeg every day no longer serving Rath and Willbrook.
Bus departure times from Corofin are unchanged – 09.20 to Ennis. Return journey departing from Ennis station and Friars Walk at 15.00hrs arriving Corofin 15.25 and continuing to Doonbeg via Kilfenora, Ennistymon and Lahinch. Operating every day except Sunday.
Link to new timetable: www.buseireann.ie